------------------------------------------------------------------------------
ACT ONE
-----------
EXT. WOODS - NIGHT
JOE CALLS OUT MATT'S NAME AS HE WALKS OFF.
JOE
Maaaatt... Don't leave me here MATT!!!! COME BACK!!!!
JOE RUNS AFTER MATT, BUT MATT HAD DISSAPEARD INTO THE DARK WOODS.
JOE
*Terrified* Okay.. I'm fine... I'm fine.
*Steps on a twig* AHHHHH!!! HELP ME!!!!!
JOE STARTS RUNNING.
MEANWHILE IZZY AND MIMI ARE STILL ATTEMPTING TO MAKE ZETLAMON TALK. THEY HAVE HIM TIED UP.
ZETLAMON
HA HA HA HA HA STOP IT THAT TICKLES!!!! HA HA HA!!!
IZZY
Are you gonna tell us what your up to? Or are we gonna have to tickle it out of you, you overgrown rodent!!!
ZETLAMON
I'll never talk!!!! NEVER!!!
IZZY
*smirks evily* Fine. Hmm.
IZZY STARTS TO TICKLE UNDER THE DIGIMONS ARMS
ZETLAMON
No not there!!! P-PLEASE!!! Ha ha ha ha ha ha!!!! Okay oaky... I'll talk!!!!
IZZY
Good!
MIMI
Finally!
ZETLAMON
I was sent by her majesty, Maragamon to steal all the Digivices from the Digidestined. I got this from some blonde-haired kid when he was asleep!
MIMI
That means that it is Matt's Digivice!
IZZY
*shaking the Digimon* Where is MATT!??
ZETLAMON
He's been taken prisoner by Marajamon! His girlfriend's there too!!!
MIMI
Huh! Jennifer Too!!!
IZZY
You'd better take us there and I mean NOW! Or else!!!
ZETLAMON
S - sure anything you say just don't tickle me anymore!
IZZY
Deal!
ZETLAMON
Thank you! Right this way!
IZZY AND MIMI FALLOW ZETLAMON. MEANWHILE, JOE IS STILL LOOKING FOR MATT, WHEN SUDDENLY HE HEARS NINE FAMILIAR VOICES...
BUKAMON
JOOOOOE!!!
KOROMON
TAI!!!!
TSUNOMON
MAAATT!!!
JOE
Huh?
JOE HEARS THE VOICES AGAIN. HE KNOWS EXACTLY WHO THEY ARE.
JOE(CONT')
Hey guys!!! Over here!!!
CUT TO:
JUNUMON
Bukamon, isn't that Joe?
BUKAMON
Joe! Hang on buddy we're commin'!!!
BUKAMON FLEW AS FAST AS HIS LITTLE FLIPPERS COULD CARRY HIM. HE WAS FINALLY REUNITED WITH HIS HUMAN. BUKAMON FLEW INTO JOE'S ARMS AND JOE GAVE BUKAMON THE BIGGEST HUG!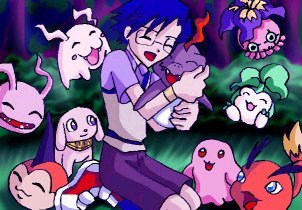 JOE
Bukamon! I can't believe it's really you!!! Ha ha!!!
BUKAMON
I knew I'd find yah Joe!
THE HAPPINESS CEASED ONCE JOE GOT A LOOK AT THE OTHER EIGHT DIGIMON,
JOE
Hey guys. Where is everyone?
THE OTHER DIGIMON HUNG THEIR HEADS IN DEEP SARROW.
JOE (CONT')
(Adjusting his glasses)
Oh.
BUKAMON
I guess we have no choice but to look for them!
ALL
RIGHT!
KOROMON
Come on guys!
JOE AND THE EIGHT DIGIMON CONTINUE THEIR SEARCH FOR THE OTHER DIGIDESTINED.
FADE OUT:
ACT TWO
------------
EXT. WOODS - EARLY MORNING
ZETLAMON
(Jumping rocks) We're almost there.
MIMI
Good. I - Ahhh!
MIMI STUMBLES AND FALLS ON HER BUTT.
IZZY
Mimi! Are you alright?
MIMI
(Getting up) No I'm not alright! Is there anything on my butt?
IZZY
(Sweat drops) Uh... well um. I - um I...
MIMI
Oh, just forget it!
IZZY'S ATTENTION IS SOON DRAWN TO SOMETHING ELSE.
IZZY
Whoa!
MIMI
Is my butt really that big?
IZZY
Huh? No Mimi. Look!
MIMI TURNS AROUND
ZETLAMON
Well, this is the place.
MIMI
It looks so dark and creepy. Are you sure we're in the right place?
ZETLAMON
Hey, would I lie? On second thought, don't answer that!
JUST THEN, THE THREE HEAR THE GAURDS, (WHO LOOKED LIKE APE DIGIMON WITH WINGS) COMING.
IZZY
Shhh. Get down guys! I have an idea.
IZZY, MIMI, AND ZETLAMON JUMP THE TWO GAURDS, NEXT THING YOU KNOW IZZY AND MIMI ARE WEARING THEIR UNIFORMS
MIMI
Eeew this Uniform has a chocolate stain on it.
IZZY
Mimi, that is the least of our problems.
ZETLAMON
Hurry! They are about to close the gates. Oh and um one more thing.
ZETLAMON WHISPERS IN IZZY'S EAR.
IZZY
You have got to be kidding.
ZETLAMON
I know it's silly, but I saw it in a movie once and trust me, it works.
IZZY
If you say so.
IZZY/MIMI
*singing* OeeeeoWooooooa Oeeeeo Wooooa
THEY REPEAT THIS TOON ALL THE WAY TO THE GATE.
IZZY
*whispering to mimi*
Remember what I said earlier, about the writers being more original.
MIMI
Yeah.
IZZY
*coughs* Ripoff
THE GATE CLOSES BEHIND THEM. ONCE THEY ARE INSIDE THE CASTLE WALLS THEY RUN TO FIND A HIDING PLACE. IZZY GETS OUT HIS LAPTOP AND STARTS TYPING AWAY.
MIMI
Izzy, are you on that dumb thing again!
IZZY
This "dumb thing" Mimi, is to help us find our way around the castle.
ZETLAMON
*Pacing back and fourth* Maragamon will use me for me for Bakemon bate. I just know it!
I
ZZY
Relax Zetlamon, just stick with us, and you'll be fine.
MIMI
*baby talk* We won't let that mean old Maragamon hurt you.
ZETLAMON
You'd do that for me? Wow! Thanks!
ZETLAMON GIVES MIMI A HUG
ZETLAMON(CONT')
Yah know I'm not doing anything later on, If your not busy maybe we can... *winks at Mimi* Huh? What do yah say? Come on!
MIMI
*Pushes Zetlamon off of her lap* Eeeeewe NO WAY!
ZETLAMON
*Shrugs* Hey that's cool with me! Huh? Hey look over there.
MIMI
*gasp* Izzy look!
IZZY
*Looking up from his laptop* What?!
THERE IS AN OPENED DOOR JUST FEW FEET AWAY FROM THEM.
IZZY
*Smirks* Bingo!
FADE OUT:
ACT THREE
--------------
EXT. WOODS-DAY
TAI AND SORA CONTINUE THEIR SEARCH FOR THE OTHERS AS WELL.
SORA
Tai, I don't know about you, but I'm getting a little hungry.
TAI
Yeah me too. Hmm. HEY!
TAI SPOTS SOME BERRIES.
SORA
Um, Tai? Are you sure those berries are safe?
TAI
They look eatable to me.
SORA
I don't know, something just doesn't seem right about...
BUT BEFORE SORA COULD FINISH HER SENTENCE TAI HAD ALREADY GOBBLED DOWN THE BERRIES IN HIS HAND.
SORA
TAI!!! NO!!!
TAI
See, no harm done. Hey these are pretty good
TAI GRABS ANOTHER HAND FULL.
TAI
Whoa... look at all the bright colors coooool... They're like, bouncing off the trees.
SORA
Tai STOP IT! What's come over you!?
TAI
Hey, Sora did you know that there is two of you standing here? ..... No make that three.
SORA
*Shaking Tai* TAI! SNAP OUT OF IT!!!
TAI
Sora you gotta try this stuff.
SORA
STOP EATING THOSE!!!
TAI
Eating what?
SORA
*Grabbing Tai* Come on lets get out of here.
TAI
*As Sora pulls him away* Whoooooa
CUT TO:
INT. CASTLE - DAY
IZZY
Okay. We're in now all we need to do is.... Wait! Over here guys.
IZZY POINTS TO ANOTHER DOOR THAT IS OPENED. THEY PEEK INSIDE, ONLY TO SEE MATT CHAINED UP TO THE WALL. LUCKALY, THE GAURD NEAR THE DOOR IS ASLEEP.
IZZY
Psst. Matt, over here.
MATT LOOKS UP.
MATT
Izzy?
MIMI
Matt! Are you okay?
MATT
Eh, I've had worse.
ZETLAMON STRUGGLES TO GET THE KEYS OFF OF THE GAURDS BELT.
ZETLAMON
YESSS!
ZETLAMON FALLS OFF OF THE CHAIR WITH A THUD. THE GAURD WAKES UP.
ZETLAMON(CONT')
Oops.
GAURD
Hey, what are you doing in here!
IZZY AND MIMI REALIZE THAT THEY ARE STILL IN THEIR GUARD UNIFORMS.
IZZY
*Trying to sound older* Uh... her majesty Marajamon wishes to see the prisoner.
GAURD
Aren't you a little small for this job?
MIMI
We'd better me going now! Don't want to keep her majesty waiting. Ta ta!
MATT
What kind of guard says Ta ta?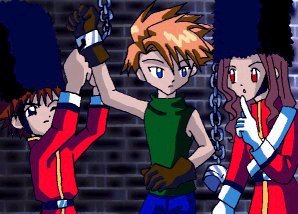 MIMI
Just shut up and keep walking.
THE GAURD SCRATCHES HIS HEAD AS THEY LEAVE. HE LEANS BACK IN HIS CHAIR AND DOZES OFF. THE THREE DIGIDESTINED AND ZETLAMON CONTINUE TO RUN, WHEN SUDDENLY THEY HEAR A FAMILIAR VOICE, COMING FROM A NEARBY ROOM.
MATT
It's Jennifer!
THEY POKE THEIR HEADS OUT FROM BEHIND THE DOOR.
INT. THROWN ROOM - DAY
JENNIFER
*Bows* I have completed my task your majesty.
MARAJAMON
Well done... Sphinxmon what is it!!!
SPHINXMON
I sense intruders!!!
MARAJAMON
Intruders!!!
THEY SPOT THE THREE DIGIDESINED AND ZETLAMON.
MARAJAMON
YOU!!!
IZZY
uuuhhh. ooohhhh
MARAJAMON
You Digidestined have brought me nothing but pain and misery... but no more NOW YOU
WILL DIE!!!!
SPHINXMON
CLAWS OF FORCE!!!
RAAAHHHH!!!
MATT
Jennifer hang on!!!
JENNIFER
I must help her majesty Marajamin... She is my master.
MATT
Jennifer, snap out of it! You can't let Marajamon's power take over your soul. Jennifer can you hear me!!! Jennifer...
MATT'S CREST BEGAN TO GLOW AND JENNIFER PASSED OUT INTO MATTS ARMS. MATT HELD HER LIMP BODY IN HIS ARMS.
JENNIFER
Matt? What happened, what's going on.
MATT
Hang in there Jen, every thing's going alright now!
JENNIFER
Oh Matt...
ZETLAMON NOTICED JENNIFER'S CREST AND DIGIVICE ON A NEARBY
TABLE. HE SCURRIED UP TO GET IT.
MARAJAMON
Oh no you don't!!!
SHE THROWS A FIRE BALL AT THE LITTLE DIGIMON. HE WAS HIT HE FALLS TO THE GROUND.
MIMI
ZETLAMON!!!
WITH THE TINY BIT OF STRENGTH HE HAS LEFT, ZETLAMON THROWS THE CREST AND DIGIVICE TO JENNIFER,
ZETLAMON
*weekly* Jennifer, catch!
MIMI RACED OVER TO HIM TO PROTECT HIM. JUST THEN...
JENNIFER
MATT LOOK OUT!!!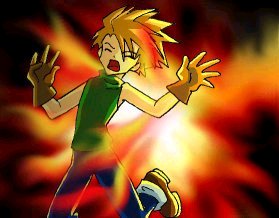 ONE OF MARAJAMON'S FIRE BALLS HITS MATT
JENNIFER (CONT')
MATT NO!!!