---------------------------------------------------
ACT ONE
-------
EXT. WOODS - DAY
MATT SITS ON THE GROUND, HOLDING HIS HEAD AND CRYING.
MATT
She's gone! This can't be happening! This is all my Fault!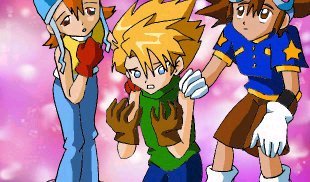 TAI
Matt, we need to think positive here.
MATT JUMPS UP...
MATT
(Yelling) Positive? About what! My girlfriend was just captured by an evil Digimon Tai! Who knows what ungodly thing will happen to her?
JOE
Would you guys keep it down?
MATT
Geeze Joe, is there anything you don't complain about?
JOE LOOKS AT MATT IN SHOCK...
JOE
Sorry.
MATT
(Realizing) No. Joe, I'm sorry.
MATT SITS BACK DOWN WITH A SIGH
SORA
Look Matt, we all realize your upset about this whole thing. But we're not going to solve anything by just sitting here and feeling sorry for ourselves.
MATT
(Nods) Your right!
TAI
Good. Now that that's settled, LETS GO!
THEY ALL WALK OFF
INT. CASTLE - DAY
JENNIFER AWAKENS IN WHAT APEARS TO BE A DUNGON OF SOME SORT...
JENNIFER
Huh? Where am I?
SHE SLOWLY GETS UP
JENNIFER (CONT')
(Rubbing her head) I don't think I'm in Kansas anymore...
MARAJAMON
Well well well...
JENNIFER JUMPS TO HER FEET.
JENNIFER
Who are you? What do you want from me!
MARAJAMON GAZES WICKEDLY AT JENNIFER…
MARAJAMON
Hm hm hm hm hm.
JENNIFER NOTICES THAT HER TAG IS MISSING.
JENNIFER
HEY!
MARAJAMON HOLDS A TAG AND DIGIVICE UP TO JENNIFER'S FACE. AND LAUGHS WICKEDLY.
JENNIFER (CONT')
You give those back, right now!!!!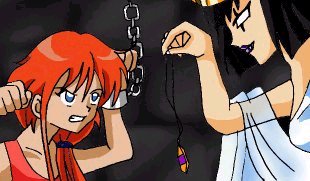 MARAJAMON
My, aren't we demanding.
JENNIFER
(Timidly) What are you going to do?
MARAJAMON
You and your friends are intruders in my forest. And must be STOPPED!
JENNIFER
(Sneers) Yeah, From what!
MARAJAMON
That is for me to know, and you to find out. SPHINXMON!!! You know what needs to be done. GO!!!
SPHINXMON FLIES OFF…
MARAJAMON (CONT')
(To Jennifer) As for you my dear, I have a special job for you.
JENNIFER
Me? What the heck do yah want me for?
MARAJAMON
Silence! Now, look... Look into my eyes...
JENNIFER TRIES TO FIGHT IT BUT IS TEMPTED TO LOOK AT MARAJAMON. AND IS HIPNOTIZED.
MARAJAMON (CONT')
Good... Now repeat after me...
FADE OUT:
ACT TWO
-------
EXT. WOODS - DAY
THE EIGHT DIGIDESTINED WALK THROUGH THE WOODS...
TK
Matt are you okay?
MATT
(Unsure) Yeah kid, I'm fine.
FOXIMON
Hey Gomamon, yah think Jen's okay?
GOMAMON
Hey she's a tough girl... She can handle herself just fine.
TAI
(Turns his head to look at the group) Cheer up you guys we'll find her!
MIMI
Oh, I hope your right!
TAI
(Turns his head forward and whispers) I know I'm right.
JUST THEN, SPHINXMON FLIES RIGHT OBOVE THEIR HEADS.
SORA
Oh NO, It's Sphinxmon!!!
SPHINXMPON
CLAWS OF FORCE!!!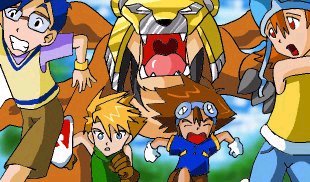 SPHINXSMON SLASHES AT THEM. THEY ARE RUNNING SO FAST THAT THEY DO NOT RELISE THAT THEY ARE BEING SEPERATED.
JOE
Ohhh this can't be happening!
MATT
Yeah well guess what? IT IS!!!
CUT TO:
MIMI
SAVE ME IZZY!!! (Hanging on to Izzy's neck)
IZZY
Mimi!! I can't breathe!!!
MIMI
AHHHHHH!!!
CUT TO:
TAI
SORA, HOLD ON!!!
TAI GRABS SORA AWAY FROM SPHINXMON'S ATTACK, AS HE FALLS ON TOP OF HER.
TAI (CONT')
Are you okay?
SORA
Yeah I guess.
SPHINXMON THROWS ANOTHER ATTACK AT THEM
TAI
RUN!!!
CUT TO:
TK
Don't worry Kari I'll protect you!!!
KARI
TK that Digimon is ten times bigger then us.
SPHINXMON
CLAWS OF FORCE!!!
TK/KARRI
AHHHHHHHH!!!!
CUT TO:
INT. CASTLE - DAY
MARAGAMON IS WATCHING THIS THROUGH THE BURNING FLAME.
MARAJAMON
Perfect. With the Digidestined separated and without their Digimon... I can destroy them all, much easier. Ha Ha Ha Ha Ha!!!!
CUT TO:
EXT. WOODS- DAY
SPHINXMON THEN FLIES OFF AND LEAVES THE DIGIDESTINED TO THEIR FATE.
FADE OUT:
MATT WAKES UP AND SLOWLY RISES TO HIS FEET. JOE DOES THE SAME.
MATT
Where are we?
JOE
Hey W- Where is everyone?
MATT
No idea.
JOE
Here we go again! We're always getting separated. Why is that?
MATT
I think somebody wants us dead!
JOE
I hate it when people want to kill me.
MATT
Well come on we might as go try and find the others.
JOE
(As they are walking off) I don't like this! I don't like this one tiny bit! We're going to be captured I just know it!
MEANWHILE, IZZY AND MIMI WAKE UP AND FIND THEMSELVES ALONE AS WELL.
MIMI
Tai, Sora... Joe where are you?
IZZY
You know I am beginning detest this whole being separated thing. Can't the writer's come with something more original for once.
MIMI
Izzy look!
IZZY
My Digivice...
MIMI
Then that means that the others can't be too far.
IZZY
Come on this way!
WE THEN COME TO TAI AND SORA...
SORA
(Rubbing her head) What happened?
TAI
I - I don't know.
TAI JUMPS TO HIS FEET.
TAI (cont')
Sora... Everybody's gone!
SORA
Your right!
TAI
We must have been running so fast that we lost them! We got to find them!
TAI RUNS OFF SORA RUNS AFTER HIM.
MEANWHILE KARI AND TK ARE JUST WAKEING UP.
TK
Wha- Hey where is everyone?
KARI
WHERE ARE YAH TAI!
TK
MAAAATT!!!
KARI
TK where are they?
TK
They got to be here!
TK AND KARI CONTINUE TO CALL OUT THEIR BROTHER'S NAMES…
KARI
TK I'm scared.
TK HUGS KARI
TK
Don't worry Kari I'll protect you. I promise. Come on lets go look for them.
SPHINXMON STARES DOWN AT ALL THE DIGIDESTINED FROM A HIGH CLIFF HIS JOB IS DONE, FOR NOW. HE FLIES OFF ONCE AGAIN.
FADE OUT:
ACT THREE
---------
EXT. WOODS - DAY
ALL THE DIGIMON WERE SO TIRED THAT THEY DEDIGIVOLED INTO THERE TRAINING POSITION.
JUNUMON
They're gone!!!
KOROMON
We got to find them!!!
TSUNOMON
How can we... They're probably miles and miles away from us by now
MOTIMON
What if an evil Digimon captured them?
KOROMON
How can this get any worse? I'll probably never see Tai again.
MOTIMON
Don't say that Koromon.
BUKAMON
That's right they've got to be here somewhere. And if they are we'll find them!!!
KOROMON
I hope your right.
INT. CASTLE - DAY
MARAJAMON
(Looking at the Image in the Flame) All the digimon and their humans have been separated and now they are all helpless. Good work Sphinxmon.
SPHINXMON
Thank you my Queen. Now your plans will proceed perfectly.
MARAJAMON
Now my pretty you know what to do, starting with this one!
SHE LOOKS AT THE IMAGE OF MATT IN THE BURNING FLAME.
JENNIFER
Yes my Queen, I'll do what you say. I will not fail you.
MARAJAMON
Good I know you will not fail me. HA HA HA HA HA
FADE OUT:
Act Four:
---------
EXT. Dark Forest- day
JOE
Hey Matt can we stop? My sinuses are starting to kill with all this walking through these bushes. Huuuu chuewwwwwww! Hu chuewww! And besides I really have to go!!! (Running to the bushes)
MATT
Stop wining like Mimi Joe, you're just like her, so paranoid, and do you have to do that right now! Sigh, (shaking his head) We have to keep walking if we are going to be able to find the other's and I don't want to think of what might happened to TK if he was… was…
JOE
Tk will be fine its just that what really worries me is that we do not know what kind of evil digimon would be out here and we're completely lost!
MATT
Well you have a point there, Joe. It's just that I am so worried about Tk and of Jennifer. We have to keep walking but we do need to get some rest for tomorrow. I guess it won't hurt if we stop but early in the morning we have to go ok!
JOE
Agreed then, we can finally get something to eat, as long we don't have to go far. (Joe and Matt set up camp)
Cut to:
MIMI AND IZZY RUNNING TO WHERE IZZY'S DIGIVICE IS TELLING THEM
MIMI
(Mimi falls on a small digimon) Aaa! Owwwww, um Izzy we have to stop!
IZZY
Mimi come on we have to keep going or we are going to lose the signal from the others!
MIMI
Oh Izzy come on give me a break, besides I tripped on ow what's this! Were did you come from?
A small digimon that looked like a squirrel was
holding a digivice and it was the one they were looking for.
IZZY
Hey were did you get this you, you…
ZETLAMON
Why should I tell you and why should I give this device to you human. Do you work for Marajamon? Oop's! I should be going now…
IZZY
(Holding Zetlamon's tail, While he is trying to run away) Wait a second, what are you going To do with that digivice?
MEAN WHILE:
SORA
I don't think we can find them in this weather! (sitting down on her knee's)
TAI
But I have to find Kari. She's never been to the digi world and I promised my folks that I looked after her!
SORA
I know Tai but we can't keep running around the place, we have to have a plan.
TAI
You're right Sora, but…
SORA
No buts! Now we have to save our strength's if we are going to be able to find them
TAI
Ok! (Pounding the ground)
FADE OUT:
TO TK AND KARI
KARI (V.O.)
I hope Tai's all right? I wonder what he's doing right now?
TK (V.O.)
I hope we find the others real soon!
Yawwwwwn!
I'm gettin' kinda tired.
KARI
Yeah, me too.
TK
Lets camp out here for the night!
KARI
(Unsurely) Okay. Goodnight TK.
TK
'G night don't let the Numemon bite!!!
KARI GIGGLES AT TK'S CUTE JOKE...
CUT TO:
MATT
Joe, do you really think that Jennifer will be all right? I can't stop thinking about her of what kind of torture that Marajamon might do to her.
JOE
Yeah! (Cleaning his glass)
They both look up deep into the sky, seeing the day turn into the night and chilling memories of the past and the future. But as they were getting settled, Marajamon was watching them in her firing flame from her dark and evil castle.
EXT. WOODS - NIGHT
LATE THAT NIGHT, MATT AWAKENS TO THE SOUNDS OF FOOT STEPS.
MATT
Huh? Who's there!
A FAMILYAR FORM EMERGES FROM THE BUSHES...
MATT
(Happily) JENNIFER! It's you! What happened are you all right???
BUT JENNIFER REMAINS STILL AND SILENT.
MATT (CONT')
Jen? Jennifer! Dude, Come on snap out of it!!!
JENNIFER HOLDS OUT HER HAND AS MATT GAZES INTO HER EYES AND SLOWLY TAKES HER HAND JOE WAKES UP JUST IN TIME TO SEE WHAT IS HAPPENING...
JOE
Matt?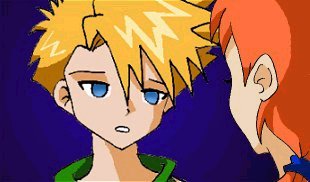 MATT DOSN'T SEEM TO HEAR JOE. HE IS NOW UNDER MARAJAMONS EVIL SPELL. HE FOLLOWS JENNIFER FARTHER INTO THE WOODS. JOE CALLS OUT MATT'S NAME.
JOE
Matt, where are you going... MAAAATT!!!