"Foximon Digivolves"
By
Jennifer Morton
Illustartions By
Resuko
____________________________________
REVIEW OF PREVIOUS EPISODE:
JENNIFER
I was out chillin' by the lake with my friend Foximon. Everything was great until Solomon; an evil Digimon started attacking us. Then these eight other kids called "The Digidestined" came to my rescue. Then I met Matt it wasn't long 'till sparks started flying. He said something about this dream he had with me in it! Solomon came back and he wasn't too happy. Fortunately, Garurumon was able to digivolve into WereGarurumon and sent that Solomon for a swim. Now, I have my own digivice and it turns out that I am one of the digidestined. As Izzy would say, Prodigious!!!
DIGIMON THEME SONG PLAYS:
---------------------------------------------------
ACT ONE
-------
EXT. WOODS - NIGHT
THE GROUP SITS INFRONT OF A SMALL CAMP FIRE.JENNIFER SNUGGLES CLOSE TO MATT, WRAPPING A BLANKET AROUND HERSELF.
MATT
Comfy?
JENNIFER
Mmm Hmmm.
JENNIFER THEN THROWS THE BLANKET OVER THE BOTH OF THEM AND YOU CAN HEAR KISSING SOUNDS UNDERNEATH IT.
JOE
(Annoyed) I wish those two would get a room.
SORA
I know. I've never seen Matt act this way before.
BIYOMON
Isn't it obvious Sora, Matt's in love?
TAI
Well I think they've been at it long enough!!!
TAI WALKS OVER AND YANKS THE BLANKET OFF OF THEM.
TAI (CONT')
All right you two knock it off. We're trying to get
some rest here!
MATT
So.
TAI
So, all this mushy stuff is making me sick to my stomach.
(Mimmics Matt and Jennifer)
I love you Jennifer!
I love you Matt!
Kissy kissy.
I've had it!!!
MATT
Yeah well your just jealous that's all!!!
TAI
(Clenches his fists) Oh. About what!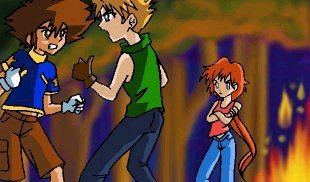 MATT
'Cause I got the girl.
TAI
Rrrr, Yah wanna make somethin' of it!!! LETS GO ISHIDA!!!
MATT
BRING IT ON KAMYIA!!!
TAI
with pleasure...
JENNIFER BREAKS UP THE FIGHT BEFORE IT GETS TOO SERIOUS.
JENNIFER
All right you two now that's enough!!!
TAI
(To Jennifer) Tell your "boyfriend" to back off or I'll beat his sorry butt to the ground!!!
MATT
I'd like to see you try!!!
JENNIFER
THAT'S ENOUGH!!!!
Everyone shuts up.
JENNIFER (CONT')
Now we've all had a really long day I suggest we all quit whining and arguing and get some shuteye.
GOMAMON
Sounds like a plan to me.
JENNIFER
Good!
(Yawning)
Good night everybody.
MATT
Goodnight Jen. Sweet dreams.
JENNIFER
Oh you know I will.
SHE GIVES HIM A GOODNIGHT KISS.
JENNIFER
Sleep tight.
FOXIMON FALLOWS JENNIFER AND SNUGGLES UP BESIDE HER.
FOXIMON
G'Night Jens.
JENNIFER
G'Night Foxi.
WITHIN A FEW MOMENTS EVERYONE IS FAST ASLEEP.
LATER THAT NIGHT...
AN IMAGE OF FOXIMON APPEARS WALKING INTO A HEAVENLY RAY OF LIGHT SHE SHEELDS HER EYES FROM THE BRIGHTNESS.
FOXIMON
What is this place?
A SOFT VOICE STARTS TO SPEAK HER NAME…
VOICE
Foximon…
FOXIMON
I'm here! What do you want from me?
VOICE
FOXIMON…
FOXIMON
Who are you?
VOICE
Foximon, I am your Digi-Guide
FOXIMON
Oh well that makes sense.
VOICE
I am here because you are in need of me.
FOXIMON
Is this about my Digivolving?
VOICE
Yes. Foximon you have a power so deep within you that you haven't yet discovered, but soon will.
FOXIMON
But how will I know?
VOICE
When the time comes, you will know. Good luck my friend.
FOXIMON
Wait!!! Come back!!! Come back...
Foximon jumps up.
SHE SEES THAT SHE IS STILL NESTLED IN JENNIFER'S ARMS AND THAT SHE AND THE OTHER DIGIDESTINED ARE STILL FAST ASLEEP. IT WAS ONLY A DREAM… OR WAS IT?
ACT TWO
-------
EXT. CAMPSITE - NIGHT
FOXIMON SLOWLY GETS UP AND STARTS TO WALK OFF. SHE STOPS AND LOOKS BEHIND HER WATCHING JENNIFER AS SHE SLEEPS PEACFULLY, THEN CONTINUES TO KEEP WALKING.
EXT. POND - NIGHT
FOXIMON LOOKS AT HER REFLECTION IN THE WATER, LETTING HER MIND WONDER.
FOXIMON (V.O.)
What's wrong with me? What's keeping me from Digivolving? Why can't I do it?
Sigh.
JUST THEN, FOXIMON HEARS THE VOICE OF GOMAMON BEHIND HER.
FOXIMON
Gomamon! What are you doing' up?
GOMAMON
I was just about to ask you the same thing.
FOXIMON LOOKS BACK DOWN AT HER REFLECTION AND SIGHS.
GOMAMON (CONT')
What's wrong Foxi?
FOXIMON
I don't know. I know Jennifer has the digivice and everything but…
GOMAMON
But what?
FOXIMON
How's it going to help me to Digivolve?
GOMAMON
Is that all that's buggin' yah?
GOMAMON STARES INTO FOXIMONS TEARFILLED BROWN EYES…
FOXIMON
Gomamon, I want to know what my next level will be. What powers I'll possess. I don't want to be stuck like this forever yah know.
GOMAMON
Awe Fox, your fine just the way yah are.
FOXIMON
Gomamon, When you digivoled into Ikkakumon for the first time... How did that feel?
GOMAMON
I'll admit that it was a little scary at first. But once I did... I felt invincible. Like nothing was gonna stand in the way of protecting my human!
FOXIMON
My point exactly! I just want to feel better knowing that Jennifer is protected.
GOMAMON (Shrugs) Well, she's got Matt.
FOXIMON
(Sternly) But can "Matt" digivolve.
GOMAMON
(Hangs his head) No.
FOXIMON
I love my human... just like you love Joe.
GOMAMON
But you don't have to Digivolve to show Jen how much you love her. She loves you just the same.
FOXIMON
And you?
GOMAMON
(Blushes) Well I… Yeah I think you're cute.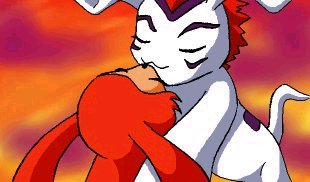 WITHOUT THINKING, FOXIMON GIVES GOMAMON A HUGE KISS. HEARTS START TO RISE UP AND GLOW ALL ARROUND THEM. GOMAMON'S EARS PERK UP. HE LOOKS AS IF HER WERE JUST KNOCKED OVER THE HEAD.
GOMAMON (CONT')
So yah still upset?
FOXIMON
Does *this* answer you question?
FOXIMON PLAYFULLY SPLAHES WATER ONTO GOMAMON.GOMAMON FALLS INTO THE POND. A FEW SECONDS LATER, FOXIMON JUMPS IN AND SHE AND GOMAMON ARE SPLASHING AROUND AND LAUGHING.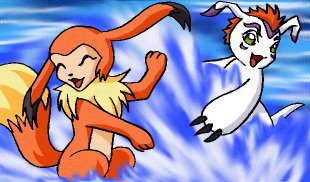 JUST THEN…
FOXIMON
Gomamon, Wait… what's that sound?
GOMAMON
Beats me.
FOXIMON SQUINTS HER EYES. SUDDENLY EIGHT LONG ARMS GRAB FOXIMON AND PULL HER UNDER WATER.
FOXIMON
AHHHH!!! GOMAMAMON HELP!!!
GOMAMON
Oh no FOXIMON!!!!
EXT. CAMPSITE - NIGHT
JENNIFER WAKES UP TO FOXIMONS AND GOMAMONS CRIES JOE AWOKE NOT LONG AFTER.
JENNIFER
Gasp
FOXIMON!
JOE
OH NO! GOMAMON!!!
TAI RUBS HIS EYES.
TAI
(Sleepily) What's up you guys?
TAI THEN HEARS FOXIMON AND GOMAMON'S CRIES FOR HELP.
TAI
What's happening?
JENNIFER
Foximon's in trouble!
Joe
And so is Gomamon!!!
THE THREE RUN OVER TO THE POND, ONLY TO SEE BOTH FOXIMON AND GOMAMON CAUGHT IN EIGHT LONG OCTIOUS LIKE ARMS.IZZY AND THE OTHER'S JOIN THE GROUP. IZZY GETS OUT HIS LAP TOP.
JENNIFER
Who is that Izzy?
IZZY
Its Squidmon; a deadly water type Digimon, known for grabbing and suffocating his prey with his eight long appendages.
FOXIMON AND GOMAMON SCREAM IN PAIN
JOE
GOMAMON... DIGIVOLVE!!!
GOMAMON CLECHIES HIS TEETH HARD...
GOMAMON DIGIVOLVE TO... IKKAKUMON!!!
IKKAKUMON
Rrrraaaww HARPOON TORPIDOW!!!!
IKAKUMON FIRES HIS HARPOON TORPEEDOW AND BLOWS
SQUIDMON AWAY.
JENNIFER
Talk about a fish out of water!!! Wait a minute where's Foximon?
FOXIMON APPEARS DRAGGING HERSELF OUT OF THE POND
DRIPPING WET AND CALLAPSES TO THE GROWND.
TAI
FOXIMON!!! ARE YOU OKAY?
TAI PICKS HER UP.
TAI (CONT')
I think she's hurt!!!
MATT
(Sarcastically) Oh really Tai? When did you notice that?
TAI
Shut up Matt!!!
Jennifer
Shut up, the both of you! The last thing I need to hear right now, is your fighting!!!
MATT
Well he started it!!!
JENNIFER
Ggrrrr!!!
JOE RUSHES OVER TO GOMAMON HE IS A BIT BEAT UP, BUT NOT AS BAD AS FOXIMON.
JOE
(Shaking Gomamon) Gomamon... are you okay? Come on buddy speak to me!
GOMAMON
Yeah Joe I'm fine... really.
JOE
(Shaking Gomamon even harder) Don't ever scare me like that again... you could have gotten yourself killed!!!
GOMAMON HANGS HIS HEAD.
JENNIFER
Foximon… can you hear me??? Say something!!!
FOXIMON
(Weakly) Jennifer?
JENNIFER
FOXIMIN!
JENNIFER HOLDS FOXIMON CLOSE.
FOXIMON
Am I in heaven?
JENNIFER
(LAUPHING) No Foximon, we're both still alive.
FOXIMON
WAIT, GOMAMON!
GOMAMON
Don't worry I'm Fine!!! Huh?
KARI
Look something is floating at the bottom of the pond.
GATOMON
What do you think it is?
GOMAMON
I'll go take a look!
GOMAMON DIVES TO THE BOTTOM AND COMES BACK UP WITH A TAG.
GOMAMON
Here Jennifer. Your very own tag!
JENNIFER
Um okay.
TK
(Hugs Jennifer) Now all you need is your crest!
JENNIFER
My Crest? What's that?
MATT
It's a special symbol that goes into your tag. They also represent something important. (Holding up tag) See, mine is the crest of Friendship.
TAI
And mine is the crest of Courage.
IZZY
Mine represents Knowledge.
TK
Ha ha! And mine is the crest of hope!
JENNIFER LOOKS AT HER TAG.
JENNIFER
So all these crests mean something huh? I wonder what mine will be.
FOXIMON
I guess you'll know when you find it!
JENNIFER
This is just incredible. Who would have ever thought that I would be saving the world from evil Monsters?
TENTOMON
I think the word you're looking for is "Digimon"!
Jennifer
Yeah. that too.
TAI
Well now that that's over with, lets go back to the camp and pack up.
MIMI
I don't think I can stand another minute here.
KARI
Me too!
TK
Me three!
JENNIFER GENTLY PICKS UP HER DIGIMON AND HEADS OFF WITH THE GROUP. THE SUN IS JUST STARTING TO RISE.
INT. CASTLE - DAY
MARAJAMON STARES FURIOUSLY INTO HER CRYSTAL BALL…
MARAJAMON
NO! She found the Tag!!! This is unacceptable!!!! I will not be Defeated!!!! So help me. Once I get my hands on those brats. THEY WILL WISH THEY NEVER EXSISTED!!!!
FADE OUT:
ACT THREE
---------
EXT. CAMPSITE - DAY
MIMI
Can we go already, I don't know how much longer I can put up with these pine needles? Ouch!
JOE DOUBLE CHECKS TO SEE IF HE'S FORGOTTEN ANYTHING.
JOE
Well I'm all set!
AGUMON
I'm ready to go too Tai.
TAI
all right then!
JENNIFER HAS JUST FINNSHED BANDAGEING UP FOXIMONS FRONT PAW.
JENNIFER
There, Feel Better?
FOXIMON
(Sadly) Yeah I guess so.
JUST THEN, TAI APROCHES THE TWO…
TAI
Come on you two we're leaving.
JENNIFER
Okay
(To Foximon) 'Guess that's our cue.
FOXIMON NODS...
FOXIMON
Mmm Hmm.
THEY ALL DISAPEAR INTO THE DARK WOODS…
EXT. WOODS - DAY
JENNIFER
Tai, just where exactly are we going?
TAI
How the heck should I know!
JENNIFER
Because you're the "fearless leader" Just thought I'd ask.
TAI
Humph.
MATT
(Loud enough for Tai to hear) Man, what crawled up his butt and died?
TAI JUST IGNORES THE COMMENT AND CONTINUES WALKING… MATT TAPPS JENNIFER ON THE SHOULDER…
MATT
Hey JEN... What's that over there?
JENNIFER
Where? I don't see any… Aaahhh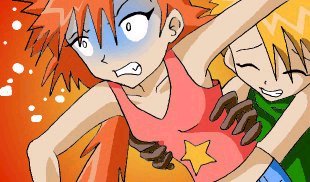 MATT GRABS JENNIFER'S TUMMY AND TICKLES HER. SHE LAUGHES UNCONTROLABLY.
MATT
GOTCHA!
JENNIFER
(Laughs) God matt don't do that! You know how ticklish I am!
MATT SMILES WICKEDLY.
MATT
I know.
JENNIFER (Sarcastically)
Oh you're a bad boy aren't you?
MATT ONLY SMILES AT HER…
MATT
(Alert) Wait! Were did everyone go?
JENNIFER
Great now we lost them! Gee Matt, thanks!
MATT
Oh sure blame it on the blonde!
JENNIFER
You know what? Shut up!
MATT
Fine I'll stop talking if you will!
Jennifer
Fine I'll stop talking.
Matt
Fine
Jennifer
Fine... wait what's that noise?
MATT
I thought we were gonna stop talking?
JENNIFER
(Whispering) Shhh… something's out there!
MATT
Just keep moving, mabbey it won't hear us.
BUT JUST BEFORE THEY CAN MOVE AN INCH, A HUGE DIGIMON, AN EVIL KABUTERIMON JUMPS OUT INFRONT OF THEM. JENNIFER HANGS ONTO MATT
JENNIFER
You were saying?
THE GIANT INSECT DIGIMON STARTS DROOLING.
JENNIFER (CONT')
Eeewww. Aren't you that guy from "ALIENS"?
MATT
Uh Jennifer, don't ask questions just RUN!!!
THEY RUN AWAY SCREEMING AT THE TOP OF THEIR LUNGS WHILE THE EVIL KABUTERIMON CHASES THEM.
MEANWHILE...
THE OTHERS HEAR THEIR CRIES AND AMEEDEATLY STOP IN THEIR TRACKS. THEY SEE THAT THE TWO ARE LONGER BEHIND THEM.
FOXIMON
Jennifer's in trouble I have to save her! (V.O.) But how? I can't Digivolve!
THEY ALL RUN TO THE NOISE ONLY TO FIND MATT LYING ON THE GROUND ALL BRUISED UP AND JENNIFER IN THE EVIL KABUTERIMON'S CLUTCHES.
IZZY
It's another Kabuterimon!
TENTOMON
When I'm in my Kabuterimon form... I'm much better looking!
JENNIFER
Ahhh put me down!!! Foximon help me!!!
TEARS FLOOD FOXIMONS BIG BROWN EYES.
FOXIMON
Oh no she'll be crushed!!! And it's all my fault!!! Ohhh why can't I digivolve.
JUST THEN JENNIFER'S DIGIVICE STARTS TO GLOW.
SORA
Jennifer, You digivice!
FOXIMON
I - I'm Digivolveing!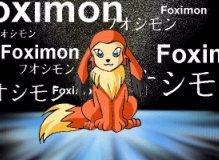 FOXIMON DIGIVOLVE To... GLORYMON!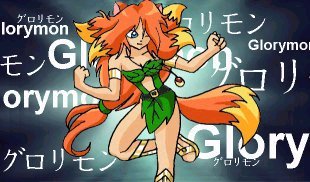 JENNIFER
Who are you?
GLORYMON
Don't worry Jennifer; I'm here to protect you! I am Glorymon I'm the champion digivolved version of Foximon! And it's all thanks to you!
RAGEING CYCLONE!!!
THE MONSTER DROPS JENNIFER.GLORYMON SPINS AROUND TO FORM A TORNADOW LIKE THING AROUND THE EVIL KABUTERIMON, BLOWING HIM AWAY. EVERYONE IS LAYING ON THE GROUND COVERING HIS OR HER HEADS, THEIR HAIR BLOWING WILDLY. WITHIN SECONDS THE TORNADOW DISSAPEARS, ALONG WITH THE EVIL DIGIMON.
ACT FOUR
--------
EXT. WOODS - DAY
GLORYMON DIGIVOLVES BACK INTO HER ORIGANAL FORM AS JUNUMON
JENNIFER
Oh you poor little thing.
GOMAMON
Even as an Digimon in training she's cute.
JUNUMON
Jennifer, Am In heaven?
JENNIFER
No Junumon, we're both still alive.
JUNOMON JUMPS INTO JENNIFER'S ARMS
JUNUMON
(HAPPILY) I did it Jen. I Digivolved!
JENNIFER
Hee hee. You sure did. Thanks Junumon!!!
JUNUMON
Don't thank me thank Glorymon!
JENNIFER SMILES AT HER FRIEND…
JENNIFER
I love you Junumon.
JUNUMON
I love you too.
JENNIFER GIVES JUNAMON A HUG THEN THE GROUP JOINS IN FOR A BIG GROUP HUG.
MATT
Hey man Watch the hair!
AGUMON
oops. Sorry Matt.
THEY ALL START LAUGHING.