"Could This Be love?"
By
Jennifer Morton
Illustartions By
Resuko
____________________________________
FADE IN:
ACT ONE
-------
EXT. WOODS - DAY
MATT WAKES UP TO THE SOUNDS OF A BEAUTIFUL YOUNG VOICE SINGING HIS NAME.
VOICE
Matt… Matt… Matt…
MATT JUMPS UP AND LETS HIS EYES WONDER. WHERE WAS TAI? WHERE WAS TK? HE WAS ALL AONE.
THE VOICE SINGS TO HIM AGAIN…
VOICE
Matt…
MATT
Hello! Who's Out There?
NOTHING.
MATT SUDDENLY FINDS HIMSELF WALKING THROUGH THE WOODS, FOLLOWING THE BEAUTIFUL SOUND. HE STOPS INFRONT OF A LAKE WHERE THE SINGING SEEMS TO BE COMING FROM.
MATT
HELLO?
HE LOOKS AROUND THEN SEES A FIGURE BEHIND A NEAR BY WATERFALL; WICH APPEARS TO BE A YOUNG GIRL BAITHING IN THE LAKE.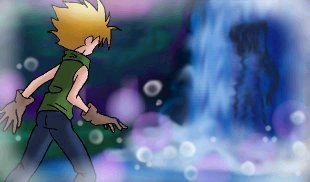 MATT TAKES OFF HIS SHIRT AND SLIPS HIS BODY, SLOWLY INTO THE WATER. HE MAKES HIS WAY BEHIND THE WATERFALL AND SEES THE BEAUTIFUL GIRL WHO HAS HER BACK TOWRDS HIM, BUT THEN TURNS HER HEAD AROUND TO LOOK AT HIM.
GIRL
Hello Matt.
THEY ARE JUST LEANING IN TO KISS… WHEN…
TAI
Matt, Wake UP!
MATT
Huh? TAI!
TAI
Of course, who were you expecting, The Easter Bunny?
MATT
Well… Never mind.
MATT STREACHES HIS LONG ARMS…
TK
Come on Matt! Hey Guy's wait up!
EXT. LAKE - DAY
MEANWHILE, NOT TO FAR OFF A YOUNG GIRL OVERLOOKS THE LAKE. SHE LOOKS EXSOUSTED. SHE SITS WITH HER DIGIMON FRIEND, FOXIMON.
JENNIFER
I am soooo tired
FOXIMON
Yeah, and I'm pretty hungry.
FOXIMON OBSERVES THE LAKE
FOXIMON (CONT')
Hmm. This looks like a good place to catch some fish.
JENNIFER
Cool! Just one problem there, we don't have any fishing gear.
FOXIMON
Well, that's why yah got me. I'm an expert when it comes to catching fish.
JENNIFER
Yeah right that's what you said about that tiny field mouse, which by the way didn't turn out to be so tiny.
FOXIMON
Don't worry Jen I can handle it.
FOXIMON RUNS ONTO A LOG AND CROUCHES DOWN IN HER HUNTING POSSISSION…
FOXIMON (CONT')
Okay here comes a big fat juicy one!
FOXIMON REACHES DOWN TO GRAB THE FISH, BUT LEANS TO FAR AND FALLS INTO THE LAKE.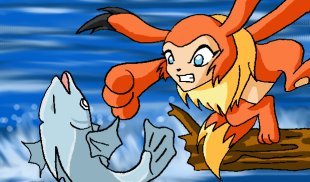 JENNIFER
An expert huh?
FOXIMON
Yeah well, you think your soooo smart. You try it!
JENNIFER
Don't mind if I do.
JENNIFER STEPS INTO THE WATER JUST GETTING READY TO CATCH HER BREAKFAST, WHEN SUDDENLY… A BIG HORSE DIGIMON COMES HURLLING AFTER HER.
JENNIFER
Foximon who's that?
FOXIMON
That's Solomon an evil Digimon; He's half horse half man. Just like Centarumon, only this one has got a major attitude problem.
SOLOMON
Prepare to DIE, Digidestined!
JENNIFER
What! What are you talking about? I'm no.... Aaaaahhhhhh
SOLOMON GRABS JENNIFER AND STARTS TO STRANGLE HER. HER CRIES ECHO THROUGH OUT THE FOREST.
EXT. WOODS - DAY
MEANWHILE THE DIGIDESTINED WALK THROUGH THE DARK WOODS, UNTIL THEY HEAR A FAINT CRY FOR HELP IN THE DISTANCE.
JENNIFER
HEEEEELLLLP!
TAI
Wait! Yah hear that?
TK
Sounds like someone's in trouble!
MATT
Deep trouble.
TAI
Come on. Lets go help!
EXT. LAKE - DAY
SOLOMON IS HOLDING JENNIFER UP CHOKING HER UNTIL HE HEARS TAI'S VOICE BEHIND HIM.
TAI
HEY YOU, UGLY! OVER HERE!
SOLOMON'S ATTENTION IS NOW DRAWN TO TAI…
TAI (CONT')
Why don't you go pick on somebody your own size?
JOE
(Sarcastically)
Great, I see where this is headed.
SURE ENOUGH SOLOMON THROWS JENNIFER IN THE LAKE AND HEADS FOR THE GROUP.
TAI
AGOMON, DIGIVOLVE!
AGUMON
Right!
AGUMON DIGIVOLE TO… GREYMON
GREYMON
NOVABALST!
GREYMON'S NOVABLAST SENDS SOLOMON FLYING INTO A HUGE ROCK, KNOCKING HIM UNCONTIOUS.
FADE OUT:
ACT TWO
-------
EXT. LAKE - DAY
SECONDS LATER, TAI STEPS OUT OF THE LAKE, SOPPING WET AND HOLDING THE UNCONTIOUS JENNIFER IN HIS ARMS. HE SETS HER DOWN ON THE SOFT GRASS.
FOXIMON
JENNIFER!
TAI
Who are you?
FOXIMON
(Panting)
My name is Foximon. I'm Jennifer's Digimon!
TAI
(Observing Jennifer)
Jennifer Huh? Hmm.
HEARTS START TO FLUTTER AROUND GOMAMON, HIS TOUNG HANGS OUT OF HIS MOUTH DROOLING.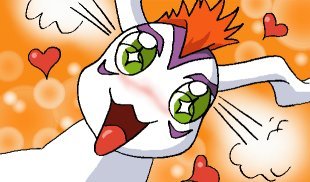 GOMAMON
I think I'm in love!!!
GOMAMON FALLS BACKWARDS AND JOE ROLLS HIS EYES.
JOE
Oh boy. Here we go.
GOMAMON
(in a sexy voice)
Hello there I...
FOXIMON PUSHES GOMAMON AWAY AND RUNS TOWARDS JENNIFER. JOE RUSHES OVER AND PICKS UP GOMAMON.
GOMAMON
Oh Yeah she's obviously nuts about me.
JOE
(With a smirk)
Yeah, sure Gomamon whatever you say.
Matt interrupts…
MATT
Wait A sec. It's her!
JOE
(Puting down Gomamon and adjusting his glasses)
Who Matt?
MATT
The girl from my dream…
TAI
What?
IZZY
Matt, What on earth are you talking about?
MATT
I was having this strange dream... and *she* was in it!
MIMI
(To Sora)
How typical, what else would guy's dream about?
TAI
Now hold on a minute. You mean to tell me that you've seen this girl in your dreams… but that's impossible!
IZZY
Not necessarily Tai.
TAI
Huh?
IZZY
Well you see Tai; a simple dream can sometimes predict an upcoming event. For example, Matt says he's seen this girl somewhere in a dream. Therefore, she could very well be another Digidesined.
MATT
Hmmm.
JOE CHECKS JENNIFER'S PULSE.
TAI
Is She…
JOE
I don't think so. Her Pulse seems normal.
TAI
Well that's good.
MATT
Well now what'll we do? we can't just leave her here.
IZZY
You're right. I suggest we all get as far away from here as possible, incase Solomon decides he wants to come back for round two.
MATT
I'll carry Jennifer.
TAI
Okay then you heard Izzy, Lets move out!
MATT LIFTS JENNIFER OVER HIS SHOULDER AND EVERYONE WALKS OFF INTO THE WOODS.
CUT TO:
INT.CASTLE - DAY
AN EVIL DIGIMON SITS HIGH ON HER THROWN LOOKING ALMOST DESCUSTED.SHE LOOKS LIKE CLEOPATRA.
MARAJAMON
SOLOMON! How could you let them escape?
SOLOMON
I am sorry your grace.
MARAJAMON
Enough excuses, I want those Digidestined brats DEAD! I won't accept failure Solomon.
SOLOMON
(Bows)
Yes your Excellency.
THEN SOLOMON GALLAPED OFF
MARAJAMON
(V.O.)
Beware digidestined... once I have you in my grasp, I will have this world, and your world as well. You will not win, that I promise...
HA HA HA HA HA!
EXT. WOODS - DAY
JENNIFER AWAKENS TO THE SOUNDS OF A SOULFUL HARMANICA. SHE LOOKS UP AND SEES MATT LOOKING DOWN AT HER.
JENNIFER
Where am I? Wait a sec, who are you?
MATT
Hey relax.
JENNIFER
FOXIMIN! Where's FOXIMON?
MATT
Don't worry, everything's going to be okay. Just try to relax.
JENNIFER
I can't relax. I'm too stressed.
MATT
Why?
JENNIFER
Gee, I don't. Know
Could it be because I have know Idea what's going on, not to mention I'm sitting here talking to some stranger.
MATT
(Affended)
Hey, This "stranger," has a name.
JENNIFER
* God * I'm Sorry. I - I didn't mean to be rude.
MATT
It's Okay. I'm Matt.
AS MATT HOLDS OUT HIS HAND, JENNIFER GAZES INTO HIS BIG BEAUTIFUL BLUE EYES. COULD THIS BE LOVE AT FIRST SITE?
MATT (CONT')
Well, Are yah going to shake my hand or just sit there and stare at it all day?
JENNIFER QUICKLY SNAPPS OUT OF HER TRANCE…
JENNIFER
Oh, Right. It's just that... You have such pretty eyes.
MATT
(Blushes)
Well-a thanks.
MATT (V.O.)
Matt you idiot, she gives a compliment and that's the best Thing you can come up with Yeah right.
MATT (CONT.)
You have ...
(Thinking) Come on Matt just say it...
You have very pretty hair.
(Thinking) Oh Man, That sounds even worse...
JENNIFER
Thank you.
THEY SUDDENLY STOP TALKING AND THIS TIME THEY ARE BOTH LOOKING INTO EACH OTHERS EYES.
ALL OF A SUDDEN TAI BREAKS THE SILANCE.
TAI
HEY! You're awake!
AGUMON
We brought you some food.
FOXIMON COMES RUNNING OVER TO JENNIFER AND JUMPS IN HER ARMS.
FOXIMON
Jennifer!
JENNIFER
Foximon!
FOXIMON
I'm glad to see your okay.
JENNIFER
(Giggles)
Me too Foximon… Me too.
JENNIFER GIVES FOXIMON A BIG HUG. TAI GETS OUT HIS MINI TELESCOPE TO LOOK OVER THE HARIZON
JUST THEN...
TAI
Don't look now guys, but we got company!!!
SORA
Oh NO!! It's Solomon!!!
SOLOMON RUNS TOWARDS THEM…
SOLOMON
RrrrrAAAHHHH
GOMAMON
I'll take care of this guy.
GOMAMON DIGIVOLVE TO... IKKAKUMON
IKKAKUMON
RRRRAWWWW HARPOON TORPIDOW!!!!
SOLOMON DODGES THE TORPIDOW.
SOLOMON
HA! You stupid Digimon! You don't scare me. You're weapon is merely a small toy, compared to what I have in store.
AAAAAHHHH SLING BLADE!!!!
IKAKUMON FALLS AND CHANGES BACK INTO GOMAMON.
JOE
GOMAMON!!!!
FOXIMON RUNS OVER TO GOMAMON AS WELL.
FADE OUT:
ACT THREE
----------
EXT.WOODS - DAY
JOE (CONT')
GOMAMON!!! Are you okay? Say something!!!
FOXIMON
(Holds him close)
GOMAMON! I can't believe you did that! Why?
GOMAMON
(WEAKLY)
I don't know, I guess I just wanted to impress you.
FOXIMON
Awe Gomamon, you don't have to impress me. I like yah anyway.
GOMAMON
Yah do?
FOXIMON
MmmHmm.
GOMAMON
(BLUSHING)
HA HA!!!
SOLOMON
(Getting out his sword)
Enough games! NOW Digidesined, you will DIE!!!
JENNIFER
Not if I have anything to say about it!
JENNIFER RUNS TWARDS SOLOMON
MATT
JENNIFER NO! WHAT ARE YOU DOING? COME BACK!
SOLOMON
Foolish human, I'll kill you first.
AAAAAHHHH SLING BLADE!!!
MATT
NOOOOOO!!!!!!
GABUMON
GABUMON DIGIVOLVE TO... GARURUMON!!!
MATT JUMPS ONTO GARURUMON'S BACK.
MATT
JENNIFER, HOLD ON!!!
MATT SCOOPS UP JENNIFER AND THEY ARE BOTH RIDING ON GARURUMON.
MATT
Hang on tight!!!
JENNIFER
(Laughes nervously)
No problem there.
JENNIFER HOLDS ONTO MATT TIGHTLY AS THEY START TO RUN.
MATT
Uh Jen. I said to hang on tight, not suffocate me.
JENNNIFER
Oops. Sorry.
SOLOMON YELLS ANGERLY AS HIS VICTIM ESCAPES.
MATT
Go get 'em GARURUMON!!!
GARURUMON
HOWLING BLASTER!!!
TAI
(Jumping up and down)
YEAH!!! That's the stuff!!!
JENNIFER
Matt, are you sure this is safe?
MATT
Yah know something Jen, You worry way too much your starting to sound more and more like Joe.
JENNIFER
(Offended)
Oh thanks!
SOLOMON
SLINGBALADE!!!!
SOLOMON SLASHES AT GURURUMON, HE FALLS BACKWARDS, SENDING MATT AND JENNIFER FLYING OFF HIS BACK, AND ONTO THE GROUND.
SOLOMON
HA HA HA HA HA!!!
MATT/JENNIFER
GARURUMON!!!!
JENNIFER (CONT')
NO!
SOLOMON APROCHIS MATT AND JENNIFER. JENNIFER HOLDS ONTO MATT TIGHT. MATT DOES THE SAME…
SOLOMON
(Raising his sword.)
You have stood in my way for the last time!
NOW you will both die!!!!
AHHHHHH SLINGBLADE!!!!
JENNIFER THREW HERSELF OVER MATT.
FOXIMON
JENNIFER NOOO!!! Oh if only I could Digivolve!!!
JENNIFER TAKES THE HIT AND FALLS TO THE GROUND. MATT YELLS OUT.
MATT
JENNIFER NOOOOOO!!!!!
(To Solomon shaking his fists.)
You -You KILLD HER!!!!
Just then...
JENNIFER
Uh. Matt…
MATT
Huh?
Solomon raises his sward again..
SORA
MATT LOOK OUT!!!
GARURUMON
HANG ON MATT!!!!
GARURUMON DIGIVOLVE TO... WEREGARURUMON!!!
WEREGARURUMONN PUSHES SOLOMON AWAY FROM MATT. MATT RUNS OVER TO PROTECT JENNIFER WHO IS LIEING ON THE GROUND, UNCONTIOUS.
WEREGARURUMON AND SOLOMON PUT UP A PRETTY GOOD FIGHT. THEY MAKE THEIR WAY TO A NEARBY CLIFF AND SOLOMON PINS WEREGARURUMON DOWN TO THE EDGE OF THE CLIFF.
WEREGARURUMON
AAAAAHHHH!
IZZY
WereGarurumon!!! Get off that cliff!!!
WEREGARURUMON KICKS SOLOMON IN THE JAW AND IS NOW FREE. HE TARES AT SOLOMON'S FLESH A FEW TIMES THEN KICKS HIM AGAIN CLOSER AND CLOSER TO THE EDGE OF THE CLIFF, THEN WEREGARURUMON GIVES SOLOMON ONE FINAL KICK IN THE STOMACH. THE CLIFF CRUMBLES UNDERNEATH SOLOMON, WHO IS SENT FALLING TO HIS DEATH BELOW, WEREGARURUMON DIGIVOLVES BACK INTO TSUNOMON. EVERYONE IS CHEERING.
FADE OUT:
ACT FOUR
---------
TAI
Ha Ha! All right we beat him!!!
MIMI
We sure did!!!
Izzy
Prodigious!!!
SORA
Hey guys, has anyone seen Jennifer?
BIYOMON
Not me!!!
TENTOMON
Me neither!!!
PALMON
The last time I saw Jennifer she was with Matt!!!
TAI
That's it!!!
(Calling)
MATT!!!!
No answer.
TAI EVENTWALLY FINDS HIM BUT HE DOESN'T LOOK TO HAPPY. INFACT HE SEEMS TO BE CRYING.
MATT
She - she saved my life.
JOE
Matt?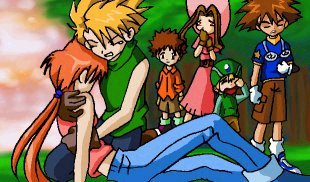 MATT HOLDS IN HIS ARMS THE LIFLESS FORM OF JENNIFER.EVERYONE HANGS THEIR HEADS IN SHAME AND DEEP SORROW.MATT HELD JENNIFER TIGHT, CLUTCHING HER PURPLE TANKTOP AND SOBBING.
MATT
(Whispering)
I love you...
FOXIMIN (V.O)
This is all my fault. If only I were able to digivolve...
Huh What's that?
AN OBJECT FALLS FROM THE SKY AND LANDS ON THE GROUND.
TAI
It's a digivice.
TK
WOW!!!
PATAMON
Took the words right out of my mouth.
JUST THEN A HUGE RAY OF LIGHT BURSTS OUT OF IT AND SURROUNDS MATT AND JENNIFER.
MATT
W - What's happening!!!
JENNIFER'S BODY STARTS TO GLOW MATT LOOKS DOWN AT HER AMAZED. THEN THE LIGHT WAS GONE. JENNIFER SLOWLY OPENES HER EYES…
JENNIFER
(WEAKLY)
Matt?
FOXIMON'S EARS PERK UP.
FOXIMON
Jennifer?
JENNIFER SITS UP…
FOXIMON
(HAPPILY)
JENNIFER!!!!!
FOXIMON RUNS AND JUMPS INTO HER HUMANS ARMS.
JENNIFER
Hey Foximon, what's going on? Why does everyone look like they just finished watching "Titanic"?
MATT HELPS HER UP.
MATT
That doesn't matter now. What matters is that you're all right.
TAI INSPECTS THE DIGIVICE THAT FELL FROM THE SKY.
TAI
This could only mean one thing.
AGUMON
What is it Tai?
TAI
Jennifer is one of us.
IZZY
You mean… she *is* a digidestined.
TAI
Exactly! And this is her digivice.
TSUNOMON
Who knew?
TAI HANDS JENNIFER THE DIGIVICE
JENNIFER
(OBSERVING IT CLOSLY)
Hmm. No kidding!!! So what exactly do I do with this thing?
MATT
Well, you could use it to help Foximon digivolve.
FOXIMON
Really?
MATT
And now I know why I was having that dream. It was telling me to look for you.
JENNIFER
Well yah found me didn't yah?
Matt
I sure did.
THEY LOOK INTO EACHOTHERS EYES ONCE MORE AND LEAN IN FOR A LONG PASIONET KISS.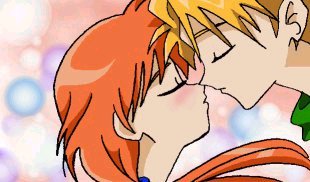 TAI
Awe. I just love happy endings don't you?
MIMI
Sigh. How romantic.
MATT
Hey. How 'bout a little privacy!!!
TAI
Okay okay!!!
EVRYONE LEAVES MATT AND JENNIFER ALONE AND THEY CONTINUE TO KISS AS THE SUN SETS BEHIND THEM.
INT.CASTLE - NIGHT.
MARAJAMON STARES INTO HER CRYSTAL BALL, FURIOUS!!!
MARAJAMON
You may have one this time digidestined. But I will see to it that next time you wont!!! I'LL
GET YOU, AND WHEN I DO AAAHHHHH!!!!
SHE SMASHES HER CHRYSTAL BALL SHATTERING IT.
HA HA HA HA HA HA!!!!!